Among the most thrilling rides in the United States are roller coasters. From big drops on wooden coasters to intense loops on steel coasters, these rides offer an adrenaline rush that is unsurpassed. Millions of thrill seekers visit the nation's top theme parks every year to experience the thrill of roller coasters. The East Coast has classic wooden coasters, while the West Coast has modern steel coasters. There are a number of reasons why most thrilling roller coasters in the US are so exciting and thrilling: the speed they travel, the height of the drops, or the number of inversions. For those who love the thrill of speed, the best roller coasters in the USA offer the highest and longest drops, the fastest speeds, and plenty of inversions.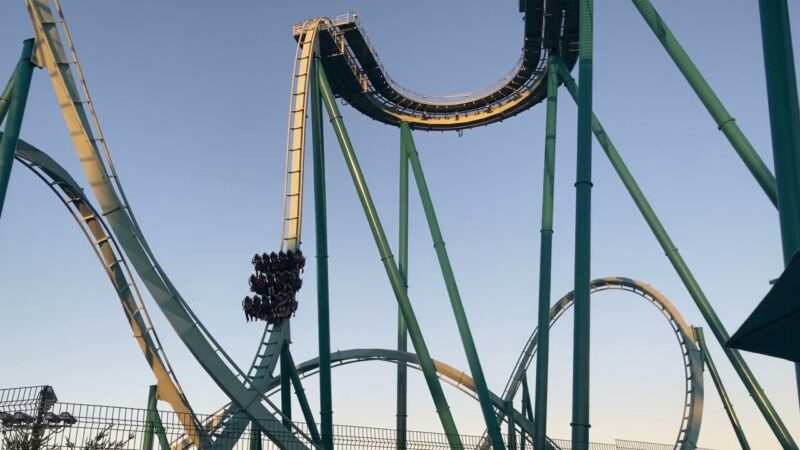 Emperor – SeaWorld San Diego
Introducing Emperor, SeaWorld San Diego's newest slide with four unique drops and a thrilling splashdown. Take a ride today and experience the thrills and spills! 
It's the perfect way to cool off this summer! With four drops and a splashdown, Emperor is sure to be a hit. Come to SeaWorld San Diego and have a blast!  Those looking for an adrenaline rush shouldn't miss the Emperor! The drop at its highest point is over 40 feet high, making it perfect for thrill-seekers. Grab your family and ride this unique ride.
Emperor is the newest attraction at SeaWorld San Diego – don't miss out!
With its 14-story vertical drop, barrel rolls, and Immelmann turns, SeaWorld San Diego's Emperor Dive Coaster gives visitors the sensation of riding a boogie board or, more appropriately, an emperor penguin performing underwater acrobatics. A 153-foot dive coaster with speeds approaching 60 mph is California's first floorless coaster.
Mako The Most Thrilling Ride
The tallest, fastest, and longest most thrilling roller coasters in SeaWorld Orlando, USA, Mako is a must-ride for thrill-seekers! Mako's sharp turns, steep drops, and long track make it an exciting ride you won't soon forget, whether you're a roller coaster enthusiast or just looking for an exciting experience. In addition, the 200-foot-tall lift hill lets you see the park before you plunge into the thrilling adventure. Mako is the perfect thrill ride for adrenaline junkies! 73 mph, Mako is the perfect way to get your heart pumping at SeaWorld Orlando!
SeaWorld Orlando's Mako roller coaster is a great place for thrill seekers. This world-famous thrill ride at 73 mph is named after one of the fastest sharks in the world.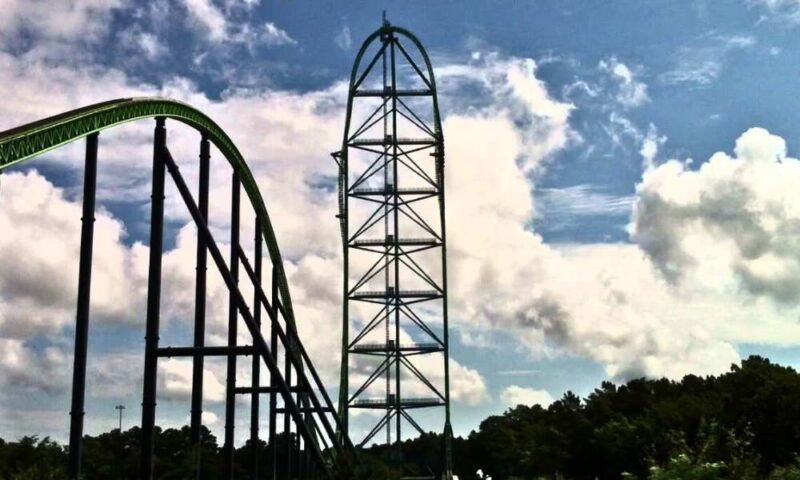 Kingda Ka – Six Flags Great Adventure
In 1974, Six Flags Great Adventure opened Kingda Ka, a most thrilling roller coaster, ride, and attraction that stands out from the rest. The ride starts with a hydraulic launch that propels riders from 0 to 128 mph in just 3.5 seconds. Riders plummet down 270 feet after reaching the top of the 456-foot tower before shooting up another hill and spiraling in a 270-degree spiral.  
Expert Nikky J calls Kingda Ka the top coaster, especially based on the fact that it is the tallest and fastest roller coaster in North America. It reaches 128 mph in 3.5 seconds from its launch to the top of its main hill, which rises 456 feet. On the descent, the track spirals rather than dropping straight down.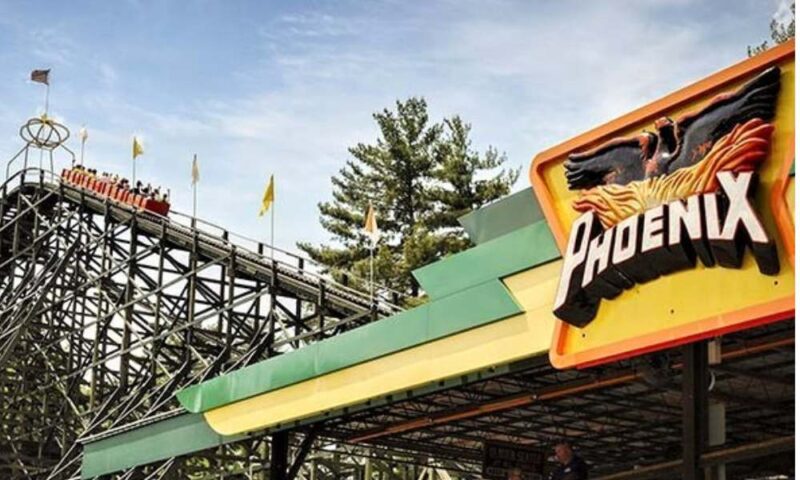 Phoenix – Knoebels
One of the most popular amusement parks in America is Knoebels in Phoenix, Arizona. Over 60 rides, food stands, and a variety of attractions can be found at Knoebels, a family-friendly amusement park in Elysburg, Pennsylvania.
There are several extreme rides at Knoebels, including the Phoenix, which reaches speeds of 50 mph. The Haunted Mansion, the Flying Turns, and the Grand Carousel are also highlighted. Kiddie rides and attractions include the Little Dipper and the Coal Cracker, for the younger crowd.
Featuring a double out-and-back layout and speeds of 45 miles per hour, Phoenix is a classic wooden roller coaster at Knoebels that proves bigger, slower, and faster isn't always better.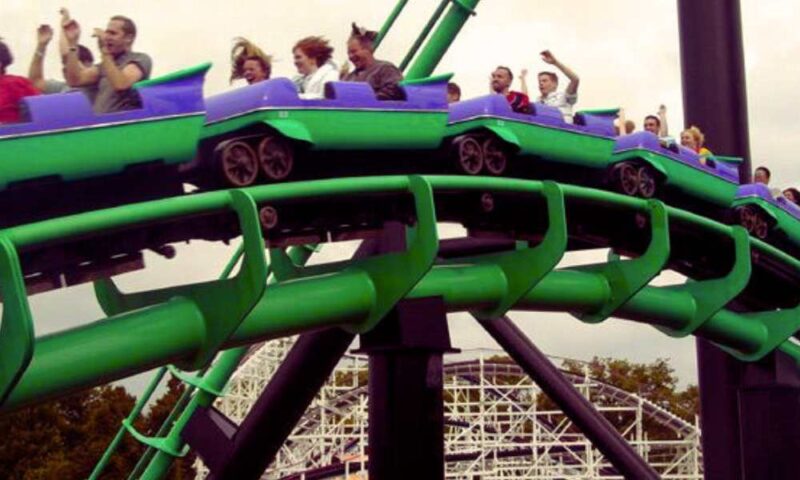 Phantom's Revenge
Kennywood Park's Phantom's Revenge roller coaster was first opened in 1991 and quickly became a fan favorite, with riders clamoring for a chance to experience its thrilling heights and speeds.
Featuring over 200-foot heights and speeds exceeding 80 mph, it is one of the most intense roller coasters in the country. In addition to several banked turns, there are camelback hills throughout the ride.
In Amusement Today magazine's list of the top ten steel most thrilling roller coasters in the world, Phantom's Revenge is a must-ride for roller coaster enthusiasts. As a result of its thrilling ride, it has a long list of loyal riders, eager to experience the rush of adrenaline.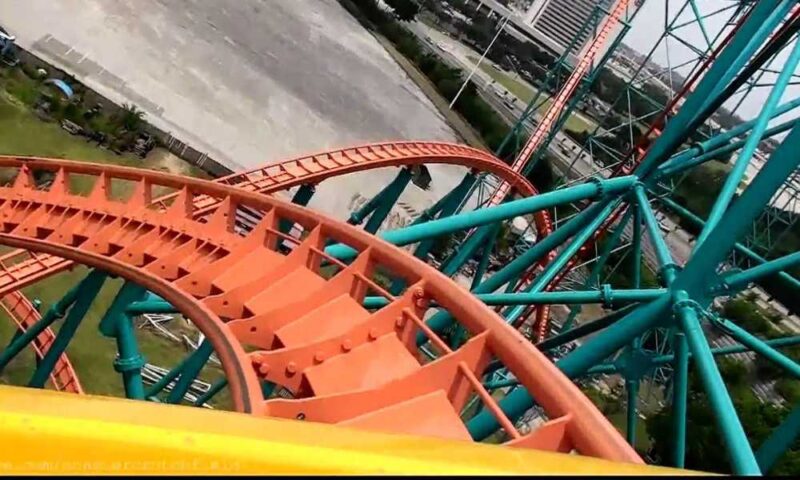 Titan – Six Flags Over Texas
On this "hyper twisted coaster," you'll need to hold on – and perhaps your lunch, too – as you descend from 255 feet to emerge from a tunnel to endure 540-degree spirals, reaching 85 mph over a mile-long track. It's said that everything in Texas is bigger, but Titan is the tallest coaster in Texas.
With 255 feet of height and a top speed of 85 mph, Titan is the tallest and fastest roller coaster in the state, standing at Six Flags Over Texas in Arlington, Texas. Intamin designed the ride and it opened in 2001.
Among the best roller coasters USA at Six Flags Over Texas is Titan. Its presence is unmistakable from anywhere in the park, making it a must-ride for coaster fans everywhere.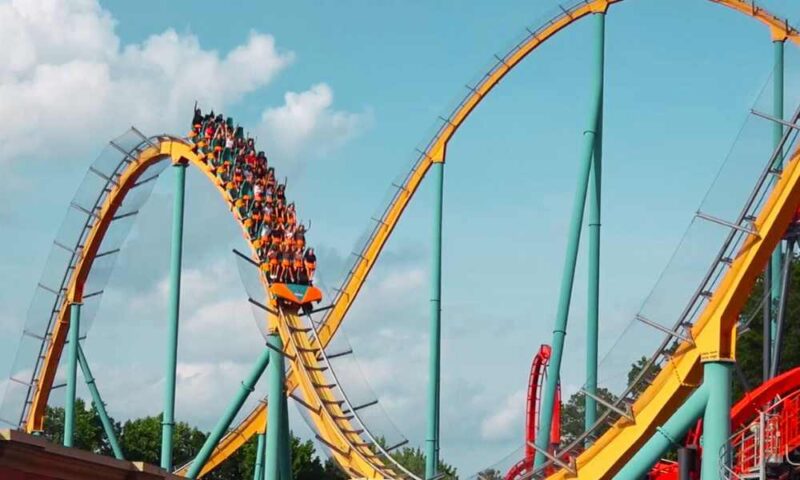 Goliath Visit Six Flags Over Georgia
At Six Flags Over Georgia, Goliath is a roller coaster with a reputation for giving thrill seekers a ride they won't soon forget. At 255 feet high, Goliath is the world's tallest, steepest, and fastest wooden roller coaster. Featuring two wicked barrel rolls, a double barrel roll, and a zero-g roll, it reaches speeds of up to 70 miles per hour while slithering down an 85-degree drop.
Goliath isn't just about the ride's stats; it has an interesting history as well. Six Flags Over Georgia built Goliath in 2006 and opened it in 2007. A variety of media outlets, including The Hunger Games: Mockingjay Part 1, have featured the ride. It was designed by the renowned roller coaster company Great Coaster International.
With two Golden Ticket Awards in 2008 and 2009, Goliath has become a fan favorite in the park. It also won the Best Wooden Coaster award from Amusement Today magazine in 2008.
At Six Flags Over Georgia, Goliath is a must-ride roller coaster with record-breaking stats, interesting history, and awards. It's the roller coaster for you if bigger, faster, and taller is better. With its 200-foot climb to the top, Six Flags Over Georgia's steel "hyper coaster" has some giant-sized thrills. There is more to come: after the first 170-foot drop, the ride plunges up to 175 feet at 70 mph, pulling a face-compressing 4G.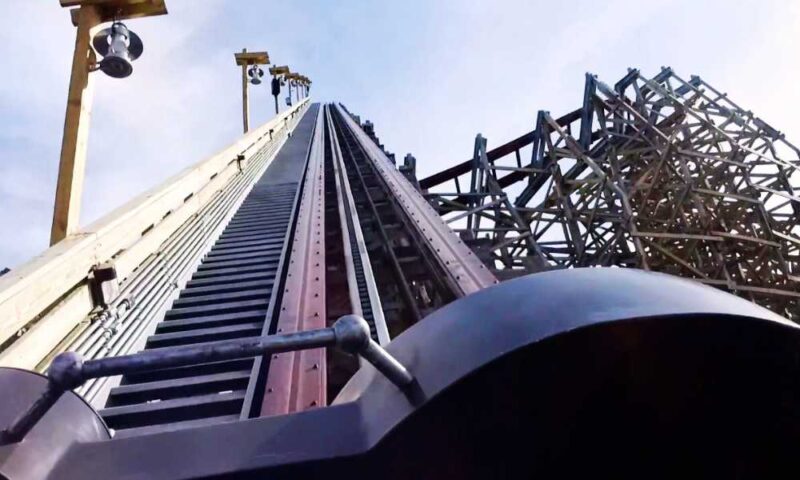 Steel Vengeance
Cedar Point is home to the world-famous Frontier Town area, where the coaster is located. This amusement park has been operating since 1870, making it the second-oldest amusement park in the country. Cedar Point boasts the world's tallest, fastest, and longest hybrid roller coaster with Steel Vengeance.
Cedar Point's latest addition, Steel Vengeance, is a thrilling roller coaster ride that is sure to thrill roller coaster fans as well as those looking for a thrilling experience. At Cedar Point in May 2018, Steel Vengeance was launched as the world's tallest, fastest and steepest hybrid coaster. With 5,740 feet of airtime (27.2 seconds), it's the world's longest hybrid coaster.
Iron Gwazi – Busch Gardens Tampa Bay
A 4,075-foot hybrid coaster with a 91-degree drop, 10 airtime hills, and speeds up to 76 mph, Iron Gwazi is Busch Gardens Tampa Bay's most thrilling roller coaster. In this world-class hybrid coaster, you will experience a unique combination of the traditional wooden coaster and modern steel track.
The magnificent coaster structure looms over you from the moment you enter the station. You will feel the excitement build as you climb 205 feet to the top of the first hill as you prepare for your ride. A 140-foot wave turns and 10 airtime hills await you at this 91-degree drop.
An unparalleled hybrid design, Iron Gwazi combines the classic thrills of wooden coasters with the smoothness of steel coasters. Featuring magnetic brakes and drive systems, the coaster has an incredibly smooth ride at maximum speeds.
A unique hybrid coaster design makes Iron Gwazi an unforgettable experience at Busch Gardens Tampa Bay.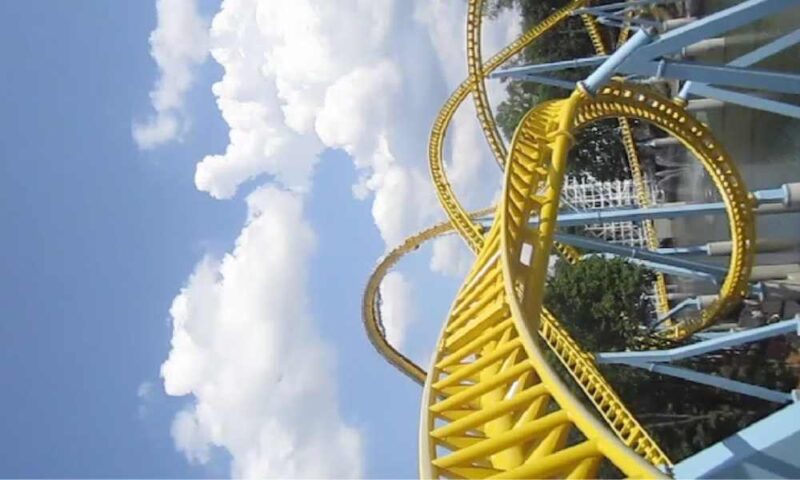 Skyrush – Hersheypark
Hersheypark in Hershey, Pennsylvania is home to Skyrush, the tallest and fastest roller coaster in the country. Skyrush stands 200 feet tall. One of the park's most thrilling rides is the roller coaster, which features four inversions and a maximum speed of 75 mph.
Skyrush stands out from other most thrilling roller coasters not just because of its record-breaking height and speed, but also because of its innovative design. There are two separate tracks on the ride, each with its own curves and inversions. 
Related: Traveling Tips Chicago